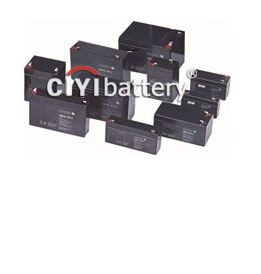 Voltage covers: 2V, 6V, 12V
Capacity: From 0.8Ah to 3000Ah
Designed floating service life: 5-15 years @ 20 °C/68 °F
Types
Sealed Small Size VRLA
Sealed Middle Size VRLA
Sealed Big Size VRLA
Description:
The standard series offers a 5-15 years full maintenance free design life. With a compact design and good reliability, this series is highly suited for security and alarm systems, UPS systems, emergency light systems and other small backup applications.
Characteristics
5-15 years design life in floating condition
Wide operating temperature range from -15 °C to 50°C
Can be used at vertical or horizontal orientation
Balanced design for both floating and cyclic operation
Low self-discharge rate and long shelf life
Construction:
Positive plate – Standard Pb-Ca-Sn alloy
Negative plate – Balanced Pb-Ca grid for improved recombination efficiency
Separator – AGM separator
Electrolyte – Dilute high purity sulphuric acid
Battery container and cover – ABS
Pillar seal – Double layers epoxy resin seal
Relief valve – Self sealing rubber cap valve with proven reliability
Applications
Alarm Systems
Communication Equipments
Control Equipments
Security Systems
Medical Equipments
UPS systems
Power Tools
Toys
Emergency Power Systems
* Please check the detail models in "Sealed Small Size VRLA" "Sealed Middle Size VRLA" "Sealed Big Size VRLA".
* Any question, Please kindly contact us freely. ciyi@ciyibattery.com and sales@ciyibattery.com. Thanks.